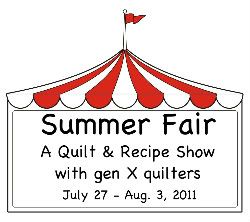 I already posted my recipe for the Fair over at gen X quilters so I wanted to get my quilt posted as well. This was my most recent finish and also the first quilt that I designed by myself.
I call this one X Marks the Spot. Here are the specifics on this quilt.
Quilting: straight stitch blocks around each square in graduated sizes, X quilted in center of each square, blocks quilted in extra spaces, outline quilting done on borders, by me on home machine
Size: Lap Quilt, 44"x 45"
Let's just say there are a heck of a lot of HST's in this quilt!
The quilt back...
and a close-up.
Hope you like it! I hope to one day have a pattern whenever I can sit down and make myself write it up!