Okay, so I finally finished that center design for my red and white hexie quilt. Yes, at the beach; I'm weird, okay? Anyway, I've already started coming up with some secondary designs to go with it. What do you think?
Yes, we're still at the hotel; that is SO NOT my carpet. Anyway, I am really proud of it. I placed it on the hotel bed to give you an idea of the size of it. This is a full sized bed.
I'm excited to see where this goes. I'm glad I cut out enough red and white fabric to keep going. Woohoo!
I also wanted to let you guys know about another quilt show. Check it out! GenXQuilters is having a quilt and recipe show.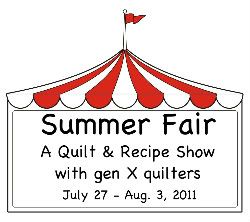 I have no idea what I'll enter. Hopefully I can finish something up. If not, I'll peruse what I've done so far. We'll see! And recipes! I'm excited about that one. I'm always looking for new recipes! Yum!