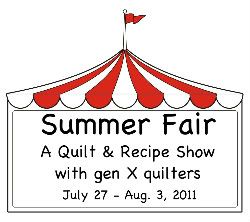 When I saw GenX was doing this Quilt and Recipe show, I knew exactly what recipe I wanted to enter. My mom used to make these cookies called Ranger Cookies. These are so yummy, and even though I am not a coconut fan, I love these. It really just makes the cookies chewy.
Here goes the recipe:
Ranger Cookies
Ingredients:
1 c. Crisco shortening
1 c. sugar
1 c. packed brown sugar
1 1/2 t. vanilla extract
2 eggs
1 c. coconut
2 c. sifted all purpose flour
1 t. baking powder
1 t. baking soda
1/2 t. salt
2 c. uncooked oats
3/4 c. crisp rice cereal
Preheat oven to 376 degrees. Cream Crisco, sugars, and vanilla extract in large mixer bowl (don't forget to add vanilla like I did!).
Add eggs, one at a time, beating well after each addition.
Combine flour, baking powder, baking soda, and salt.
Add flour mixture gradually to creamed mixture, mixing well until blended.
Stir in oats, coconut, and rice cereal.
Drop batter by teaspoonfuls about 2 inches apart onto ungreased cookie sheets.
Bake at 375 degrees for 10 minutes.
I like mine to be a little brown on top.
Let them cool and then chow down! Yum!
As a side note, I remember my mom giving me the recipe for these cookies a long time ago. It was before they had those air bake cookie sheets and before I had any better brand sheets. These were very easy to burn back then, but I had no problem whatsoever making these batches on my airbake and my Pampered Chef pans. Well, except for the one pan where I forgot to turn on the timer!