Just a quick little post to say that I took the advice of the lady at my quilting guild meeting and added a thin green border and a wide black border to my X Marks the Spot quilt.
I will admit that I screwed up a little bit because I thought I picked up enough Kona black to do the border. The top and bottom were perfect but the sides weren't long enough (misjudged) so I ended up using some leftovers from the fat quarters I had used in the quilt to make 4x4 blocks to go in each corner. I like it even better. My hubbie said it was better than being solid all around because it softened the corners and allowed your eye to look at the center, and not to be overwhelmed by the dark color all around it. Uh, yeah, sure, I meant for that to happen!
This also added some size to it since I misjudged that too. It is now 45x50 which is more like a lap sized quilt. I'm linking this up to
Clover and Violet's May Stash Buster Project
. I did have to buy the Kona solids, but from my stash I used black and white fat quarters I picked up back during the Atlanta Quilt Shop Hop and some green I had actually picked up to back a different quilt and didn't use. And I'm doubly excited because there's enough green and black/white to piece the back as well. Woohoo!
Oh, and I need some ideas. I have a friend whose wife is pregnant. He is Japanese and his wife's family is from Germany. I wanted to incorporate their cultures into a baby quilt (November), and I've just about decided to just go with fabrics from those countries. Japan is easy; there are so many cute ones to choose from! But I am really stuck on the Germany. Does anyone know of any German fabric designers, or neat things about the culture I could incorporate into a quilt?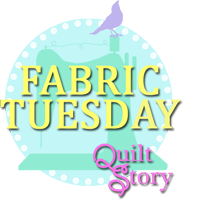 I'm also linking up to Fabric Tuesday at Quilt Story. Go check out all the other fabric goodies people have made this week.